Star: How Warren Beatty Seduced America
Does Warren Beatty deserve a spot in the pantheon of Hollywood greats?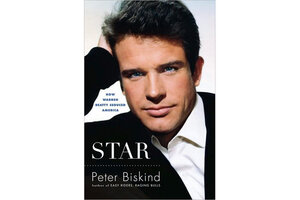 If Hollywood's a gingerbread house, Hansel and Gretel would do well to watch out for Warren Beatty. As depicted by Peter Biskind in his new biography Star, the 72-year-old actor/director/producer/writer/lothario might not devour small children, but will assuredly hijack directors' chairs, steal screenwriting credits, bankrupt studios, and canoodle every woman in sight – Gretel included.
Though its subject is as well known for his prowess with ladies – Julie Christie, Diane Keaton, Madonna, and, by Biskind's math, 12,772 others (click here for some skeptical commentary on this number), "Star" focuses as much on Beatty the Hollywood professional as on Beatty the lover.
"[H]ow many defining motion pictures does a filmmaker have to make to be considered great?" Suskind asks. "Beatty can claim five as a producer – 'Bonnie and Clyde,' 'Shampoo,' 'Heaven Can Wait,' 'Reds,' and 'Bugsy'.... You can quibble with any one of these, but all together, it's a full house." But buyer beware: The author of 1999's "Easy Riders, Raging Bulls" – which was a love letter to America's artsy, European-influenced, director-fueled 1970s cinema – Biskind is as enamored of Beatty's oeuvre as some women seem to have been of the dramatic swoosh of hair and skintight jeans of George Roundy, the clueless, ladykilling hairdresser of "Shampoo."
---