Behind the Wall
A series of vignettes tell the stories of ordinary Palestinians and life behind the West Bank barrier.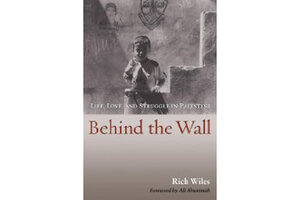 How's the situation? As two Palestinian friends gather over a tea or a water pipe in the West Bank or Gaza, it's a question that often punctuates the litany of social pleasantries central to Arab custom and marks the beginning of deeper conversation.
The "situation" is the way a young man uncomfortably scratches a foot across the ground when the talk turns to finding work. The situation is a mother listening to a daughter in the shower, wondering just how much water is left the tank atop the house. The situation is a tremor in one's hands at the approach of an Israeli patrol.
But the situation is also the excitement at receiving a "permission," as it is known, the paperwork required to cross the menacing concrete separation wall that divides Israel from the West Bank, to see family, catch a movie, or to pray. It's eight high school students clambering into a four-door Hyundai, whipping around narrow roads and screaming in celebration at passing the tawjihi, or college entrance exam. It's the ululating happiness of a Palestinian wedding.
The situation, you see, is complicated.
Which makes it a terribly difficult thing to write about. And while Rich Wiles sets off to write a book that is "a vehicle through which Palestinians themselves tell their own stories," his own ideological screeching too often contends with the subtler messages of those whose stories he aims to tell in Behind the Wall: Life, Love, and Struggle in Palestine.
---