Churchill
The life of Winston Churchill offers an abundant supply of extraordinary material for biography.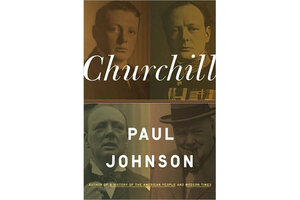 "We are all worms," Winston Churchill observed to a dinner companion early in his political career. "But I really think I am a glowworm." There is much to be said for Churchill's boast, for the British statesman is certainly among the most important political figures of the 20th century.
Born in 1874, Churchill was prime minister during World War II, his country's sternest test. And during Britain's other great international challenge, World War I, he served as first lord of the Admiralty, directing the world's largest navy. Along the way, he filled a variety of cabinet posts, often brilliantly, and even became prime minster a second time, in the 1950s, at an age when most men are content to pass their days with a leisurely stroll in the park.
Churchill was not merely the leading British politician of his era; he also wrote millions of words during a long life, authoring histories, biographies, and even fiction. In 1953, his memoirs on World War II were awarded the Nobel Prize for Literature.
Nor was Churchill's talent for language confined to the printed page. He is considered one of the 20th century's most gifted orators, whose wartime speeches inspired the British during those perilous days when Hitler's armies were steamrolling across Europe and threatening Britain's sovereignty. Reading Churchill's words can still make the heart quicken:
"We shall fight on the seas and oceans ... we shall fight on the beaches ... we shall fight in the fields and in the streets, we shall fight in the hills. We shall never surrender."
Lest one assume that Churchill's Type-A personality precluded any relaxation, it is worth recalling that the British parliamentarian was a marvelous amateur painter, whose canvases were praised enthusiastically by those in the know. Aside from skillfully wielding a paintbrush, Churchill also savored a full champagne glass, consuming vast quantities of Pol Roger, his preferred brand.
---