Conspirata
Robert Harris digs back 2,000 years to build a breezy, intelligent, political thriller on the life of Cicero.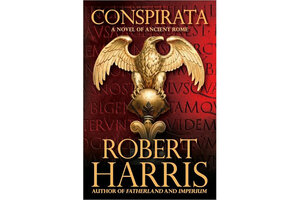 A Senate tainted by special interests and corruption. Military leaders setting the agenda for politicians fearful of being labeled soft on national defense. A populace governed more by emotion and rhetoric than results.
This may sound like the past decade or so of presidents and Congressional leaders, but in this instance it refers to the tableau brought to life by Robert Harris in his second novel telling the tales – political and otherwise – of Cicero. Harris's new book, Conspirata, picks up where the first entry in the planned trilogy, "Imperium," left off.
Cicero, as Harris has noted in earlier interviews, is an ideal subject for a historical novelist. People know his name but few other details of his life. And his life in politics is, in many senses, a contemporary story even if Cicero's exploits took place 2,000 years ago.
"Imperium," published in 2006, chronicled Cicero's unusual rise to power in ancient Rome. He came from humble origins and achieved political power without family lineage or military heroics.
Readers new to the series can pick up "Conspirata" and enjoy it without having to read the earlier title. And, once they finish, they'll soon snap up a copy of "Imperium" anyway.
In Harris's capable hands, arcane history and long-dead political machinations roar to life.
---