The Autobiography of an Execution
A death penalty attorney writes with candor about the painful burdens of his job.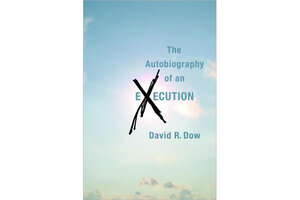 Lawyers who represent death row inmates tend to sleep poorly at night. Because so many prisoners sentenced to death by a judge or a jury indeed die (and usually in front of a prison audience), their lawyers feel like failures over and over.
The career of death penalty lawyer seems especially torturous for David R. Dow, author of The Autobiography of an Execution and a University of Houston law professor who doubles as litigation director of the Texas Defender Service.
Why especially torturous? Well, Dow is a zealous opponent of the death penalty. In addition, the state of Texas frequently leads the nation in executed prisoners.
Third, Dow has come to distrust numerous police detectives, prosecutors, and judges, believing that they would violate their oaths of office to place on death row men and women who – in their opinion – deserve to be there. Finally, Dow believes that seven of the death row inmates he has represented did not commit the crimes for which they were convicted – in other words, the state of Texas might have executed human beings innocent of the crimes of which they were accused while the actual murderers and rapists escaped punishment. All of that adds up to a heavy burden indeed.
Dow finds relaxation difficult. Even if he "wins" – which he defines as delaying the execution date for his client or occasionally seeing a death sentence reduced to life in prison – he must immediately deal with the next client on death row. The stream looks endless.
---