Imagination in Place
Berry's latest collection of essays celebrates the power of place.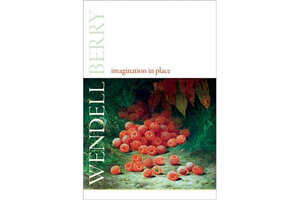 In 50 books of poetry, essays, and fiction, Wendell Berry has argued for the value of small-scale farming and against unbridled development. As the local-foods movement grows and skepticism about suburban sprawl increases, Berry's long-held ideas ring with renewed urgency. Even so, readers might wonder what sustained Berry's singular vision in all those years when he was writing against the tide.
In Imagination in Place, his latest collection of essays, Berry points to two major sources of inspiration for his literary work: the family farm he's tended for many years in his native Kentucky and a circle of other writers across the country who share his attachment to place.
For Berry, farming and writing are mutually enriching enterprises that both depend on a grasp of complexity, an eye for instructive detail, and an insistence on the particular and concrete, not the abstract and ephemeral.
Berry bristles at any suggestion of farming as a pastoral embrace of simplicity because, as he sees it, there's nothing at all simple about a farm: "It is the complexity of the life of a place uncompromisingly itself, which is at the same time the life of the world, of all Creation. One meets not only the weather and the wildness of the world, but also the limitations of one's knowledge, intelligence, character, and bodily strength. To do this, of course, is to accept the place as an influence."
---