Shadow Tag
Louise Erdrich pours heart and soul into this powerful, sensitive portrait of the final months of a destructive marriage.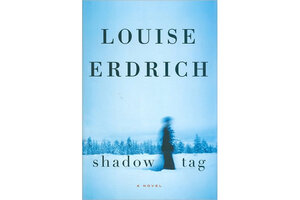 Let's say you discover your husband has been reading your diary. Do you (a) bop him over the head with it and tell him not be such an idiot, (b) leave, as the violation of trust is really creepy, (c) seek counseling, as there's clearly a problem here, or (d) don't tell him you found out, and instead start keeping a secret diary in a bank deposit box while writing adulterous scenes in the old one to torture him.
Irene America goes with "d" in Louise Erdrich's almost unbearably powerful new novel, Shadow Tag. Since her husband, Gil, a renowned painter, suspects her anyway, Irene figures that she might as well give him what he's looking for. Even before she realized Gil was reading her diary, Irene felt as if she had no privacy: For years, she's been her husband's model, spending hours literally naked as he painted.
"He'd done a series of landscapes, huge canvases vast with light, swimming Albert Bierstadt or Hudson School replicas, in which she'd appeared raped, dismembered, dying of smallpox in graphic medical detail." And at some point, she discovers, he somehow stole her identity. "By remaining still, in one position or another, for her husband, she had released a double into the world. It was impossible, now, to withdraw that reflection. Gil owned it. He had stepped on her shadow."
Irene's only refuge is the bath, with its blessed locked door. (Even there, Gil wants to know how long she'll be.) And at this point, she needs more than Calgon to take her away.
---