Classic review: The Jane Austen Book Club
When six friends gather to discuss Jane Austen's novels, they never suspect their own lives will be remade.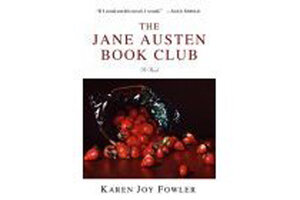 [This review from the Monitor's archives originally ran on Apr. 27, 2004.] I'm instinctively wary of genetic engineering, but Karen Fowler may have produced a literary equivalent of the elusive Super Tomato. The Jane Austen Book Club is modern chick lit spliced with genes from 19th-century romantic comedy. In fact, Fowler has so craftily designed this new novel to appeal to smart, middle-aged, book-buying women that one regards its demographic precision cynically. I'm sorry to report that it's delightful.
Her leisurely story revolves around the monthly meetings of six people - five women and one man - who gather to discuss Jane Austen's domestic romances. You don't have to know Austen's work to enjoy it, but if you've read them, you'll catch all kinds of witty parallels with the lives of these modern fans.
I wouldn't normally recommend this, but start with the appendix. Fowler's breezy summary of Austen's novels at the back is a good refresher for anyone who finds the details of "Mansfield Park" blurring with "Northanger Abbey."
---