Switch
Why is change so hard?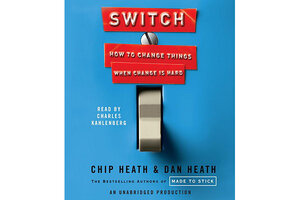 Chip and Dan Heath aim to answer this question in their new book Switch: How to Change Things When Change is Hard. The two explain that, as a culture, we tend to believe that change is often difficult if not downright impossible. But we're wrong. The Heath brothers set out to set us straight in "Switch." Successful change, they say, isn't the work of magic or miracles, but a concrete formula.
This isn't the first time the Heaths have sought to illuminate us. In their 2007 New York Times bestseller "Made to Stick," they explained why some ideas catch on while others burn out, and how to make yours do the former. Deemed a major success by several media outlets and businesses, "Made to Stick" landed on many a "must-read" list.
Unfortunately, their newest work just doesn't measure up.
"Switch" is broken into three sections: "Direct the Rider," "Motivate the Elephant," and "Shape the Path." These zoological terms, borrowed from Jonathan Haidt's "The Happiness Hypothesis," mean that you must provide the analytical mind (the Rider) with a clear goal, supply the emotional heart (the Elephant) with motivation, and spell out exactly how to get there (the Path).
Aiming to bridge the gap between the self-help books directed at individuals and the "change management" books aimed at executives, the Heaths fill chapters with research, commentary, and examples to show that change is made up of the same building blocks for everyone.
They offer up some fascinating research: You're more likely to fail at a mental task after being deprived of cookies (or setting up a bridal registry) because self-control is an exhaustible resource; appealing to someone's identity instead of offering incentives will inspire more change; asking "What's working and how can we do more of it?" will produce more successful results than asking "What's broken and how do we fix it?"
---