The Girl Who Fell From the Sky
This stunning debut novel finds the beauty – and confusion – in a young life touched by tragedy.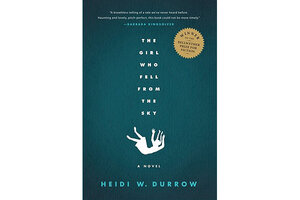 From its opening lines – " 'You my lucky piece,' Grandma says.... Her hand is wrapped around mine like a leash" – Heidi W. Durrow pulls us into her stunning first novel, a moving story encircling us as firmly as that protective grandmotherly grip.
Like Kaye Gibbons's "Ellen Foster" (1987) – another stellar debut novel published by Algonquin Books – Durrow's The Girl Who Fell From the Sky is about a smart, plucky girl, already a survivor at 11, who wins our hearts instantly. Both writers handle devastating, potentially melodramatic material with an understated restraint, tempering bleakness with underlying reassurance about the strength of the human spirit.
When we meet Rachel Morse, the daughter of an African-American GI and a Danish woman, she is just moving into the Portland, Ore., home of her fiercely stalwart paternal grandmother and her warm, classy Aunt Loretta.
We soon learn that Rachel has miraculously survived a fall from a nine-story apartment building in which her mother, brother, and baby sister all died. Three months earlier, Rachel's mother had left her alcoholic husband in Germany, following her "orange-haired" (i.e. white) lover to Chicago. But Nella hadn't been prepared for boyfriend's drinking and racism, the destitution of the projects, or for the looks and questions she gets as the mother of three brown children.
---