Classic review: The Chosen
Why being smart won't necessarily get you into Harvard.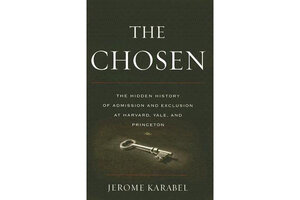 [This review from the Monitor's archives first ran on Nov. 1, 2005.] We're at a point where the frenzy to be admitted to a top college doesn't seem as if it could get any more desperate. No wonder. Near the end of his weighty (711 pages) history of admission - and exclusion - at Harvard, Yale, and Princeton, Jerome Karabel concludes: "It is no exaggeration to say that the current regime in elite college admissions has been far more successful in democratizing anxiety than opportunity."
In this climate, his tome actually comes as something of a relief.
First, it is not a "How to" guide. There are far too many of those already. The Chosen offers no promise of unlocking a secret formula for entry - though the skeleton key against a black background on the cover is an ominous reminder of how impenetrable the iron gates of these ivory towers have been to so many for so long.
Instead, Karabel, a Berkeley sociologist (and Harvard graduate), confirms that the decisions made at these elite universities as to who they will accept and who they reject, are, in fact, as inscrutable as they seem - and have been since the 1920s.
It was then that the current system was devised in order to restrict the number of Jewish students on campus - to give these schools, as Karabel writes, "the latitude to admit the dull sons of major donors and to exclude the brilliant but unpolished children of immigrants." Admissions criteria were purposefully designed to be opaque, allowing the schools to shape incoming classes as they saw fit.
And one of the book's more surprising revelations is how little has changed in the intervening years. Call it tradition.
---