Country Driving
On the road in a changing China.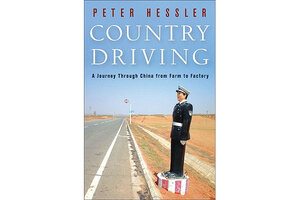 At a tourist spot in Beijing in the 1980s, Chinese used to line up to have their photos taken standing next to a car. In those days, most Chinese had never even ridden in an automobile, let alone dreamed of owning one. Today, new cars and new drivers are pouring onto China's new roads at a breathtaking pace.
Peter Hessler, who covered China for The New Yorker, spent much of the past decade exploring the effects that this is having on that nation. In Country Driving, his third book on China, Hessler takes a road trip across China, following the Great Wall.
When not on the road, Hessler is living in a village north of Beijing, or watching a factory town spring up in southern China – the result of a new road being built in the area.
China's automotive era is still in its early stages. In 2001, the year Hessler got his Chinese driver's license, China had only one vehicle for every 128 of its citizens – the same ratio that the United States had in 1911.
But the country's love affair with the car is growing rapidly – and not always comfortably. Hessler's description of China's new drivers is
hilarious – and frightening. He visits a driving school where students must first learn how to open and close a car door and where beer is consumed during the lunch break. Hessler notes that, with about one-fifth the number of vehicles as the US, China has twice the annual number of traffic fatalities.
---