Beneath the Lion's Gaze
A moving story of political and personal turmoil set in the Ethiopia of the 1970s.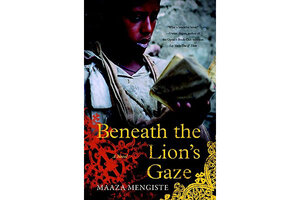 Ethiopia, an independent country for almost 3,000 years, has its own written language and a larger population than any African country other than Nigeria. Yet except for the work of Dinaw Mengestu and Nega Mezlekia, not much Ethiopian literature is available in English. Beneath the Lion's Gaze, an ambitious and accomplished first novel by Maaza Mengiste, helps to fill that gap.
Though the author left Ethiopia as a small child, she conveys the sharp beauty of the country with authority. "A blue haze drifted from eucalyptus trees dotting the hillside of Addis Ababa and clung to the horizon like a faint, tender bruise.... One young woman delicately balanced a baby on her hip as she arranged her neatly stacked rows of cinnamon sticks and berbere on a thin cloth in front of her, the bags of crushed red pepper bright as rubies."
"Beneath the Lion's Gaze" begins in the Addis Ababa of 1974. It takes its title from a stone lion that looks over the city from atop an obelisk – a monument to those killed in the struggle against Italian aggression. The aging Emperor Haile Selassie, known to some as the Lion of Judah, is losing his grip on power. Student demonstrations are being suppressed with violence.
---