Secrets of Powerful Women
Advice for young women: Make friends. Share praise. Wear red.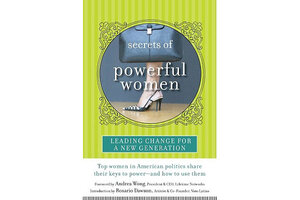 What helps a woman to succeed? Sixteen teenage girls asked that question of some of the most powerful women in America. Here's what they heard: Nurture your relationships. Share the credit. Seize the moment. Do not wait to be asked about taking power.
Because, as California congresswoman Loretta Sanchez put it, "Life is not a fairy tale, and that prince ain't coming."
The new book Secrets of Powerful Women champions female networks to help young women realize their ability to lead.
The idea for the book took root after women leaders in American politics spoke to 16 teenage girls who had won an essay contest cosponsored by Lifetime in 2008. Lifetime asked these female powerhouses to turn their remarks into essays for a book. Andrea Wong, president and CEO of Lifetime Networks, explains why in the book's foreword: "[I]f we are ever going to crash through that ceiling altogether, it's not enough to let only a handful of women at a time in on the secrets."
The contributors reveal why and how women help other women, whether in groups or one-on-one. As Sanchez explains, growing "our network of girlfriends" in Congress enables women to be effective in office. A critical mass of women in leadership positions across sectors is essential to "change the way this country works," writes Marie Wilson, president of The White House Project, which expects to have prepared more than 40,000 women to run for office by 2013.
Wilson, Sanchez, and Wong are three of the 24 female activists, journalists, and members of Congress from different races, parties, and places who contribute to the book and cheer women on to lead.
---