Silk Parachute
The latest collection of essays by quintessential New Yorker writer John McPhee includes some of his most personal writing to date.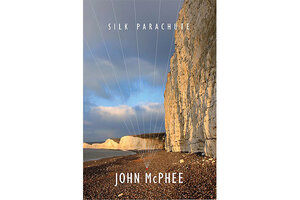 In dedicating Silk Parachute, his latest collection of essays, to his grandchildren, John McPhee perhaps inadvertently reminds readers of his longevity in American letters and his stature as a standard-bearer of a particular kind of literary journalism.
As a staff writer at The New Yorker since 1965, McPhee has come to define a New Yorker staple, what he calls in "Silk Parachute" the "long fact piece." It's typically an exhaustively researched, meticulously reported, and unapologetically lengthy article that lavishes fact upon fact, as a painter might build texture with successive layers of brush strokes, in an attempt to make an object of curiosity shimmer with fresh revelation.
McPhee's chosen subjects often seem almost aggressively prosaic. He once wrote an entire book about oranges, and another one of his books is about shad fish. McPhee is also a longtime enthusiast of geology, a subject that doesn't promise automatic commercial appeal.
Not everyone is a fan of McPhee's work. Many years ago, fellow essayist Philip Lopate described it as a "scrupulously fair, sporting, impersonal fact-gathering style ... which reminds me of nothing so much as a colony of industrious termites capable of patiently reducing any subject matter to a sawdust of detail."
What Lopate appeared to want in McPhee's work was a more overtly personal point of view, and this is exactly what readers get in "Silk Parachute," McPhee's most personal book to date.
The book divides itself just about evenly between the longish reportage for which McPhee is most famous and smaller vignettes in which the first-person voice takes a starring role. The title essay is a small piece of memoir in which McPhee fondly remembers growing up with his mother. We have McPhee's mother to thank for encouraging his love of observation, indulging his childhood wish to stand at La Guardia Field in freezing weather and watch the planes. "At LaGuardia," McPhee recalls, "she accompanied me to the observation deck and stood there in the icy wind for at least an hour, maybe two, while I, spellbound, watched the DC-3's coming in on final, their wings flapping in the gusts."
---