Classic review: The Joy Luck Club
The story of a Chinese-American "bridge" club.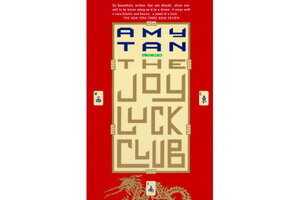 [This review from the Monitor's archives originally ran on April, 21, 1989.] Amy Tan's first novel, The Joy Luck Club, is a touching, funny, sad, insightful, and artfully constructed group portrait of four mother-daughter relationships that endure not only a generation gap, but the more unbridgeable gap between two cultures.
The Joy Luck Club is an informal "institution'' started by Suyuan Woo upon her arrival in San Francisco in 1949. Suyuan finds three other Chinese immigrant women to play mah jongg, cook and consume special foods, tell stories, gossip, invest in stocks, and plan for joy and luck. In the years that follow, the club links the four families, enabling them to pool resources and keeping them in touch with their past as they take on the challenges of adjusting to a new country.
Nearly 40 years after the first meeting, as the novel opens, Suyuan Woo has died and her place at the mah jongg table is assumed by her 36-year-old daughter, Jing-mei. Like many another American-born child of immigrants, Jing-mei has little understanding of her mother's values or the world that shaped them, although recently, the general interest in ethnicity has prompted her to revive her Chinese name, "Jing-mei,'' in preference to the American "June May,'' and has made her more curious about her roots.
---