Still Life
This quirky book posits taxidermy as a window into cultural history.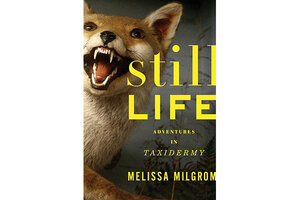 The French use the expression jolie laide to describe something that is attractive and repulsive at the same time. In English, we might call it "taxidermy."
At least that's journalist Melissa Milgrom's interpretation. After stumbling on a carcass waiting to be stuffed, and finding herself simultaneously fascinated and repelled, she took it upon herself to learn about the art, history, and science of taxidermy – that is, arranging (taxis) a skin (derma) over a manikin to resemble a once-living creature.
Most readers will correctly associate taxidermy with deer heads or dioramas. Or with serial killers. Milgrom reports that cannibal Jeffrey Dahmer wanted to be a taxidermist, and she begins Still Life with a quote from Norman Bates in "Psycho": "My hobby is stuffing things – you know, taxidermy."
The quote is a tip-off that "Still Life" is not going to be so much about the mechanics of taxidermy as about its associations. Each chapter focuses on a working taxidermist, and all have plenty to say about how maligned their beautiful and important profession is. As a participant-observer in their studios and homes, Milgrom is a sympathetic, even tender advocate. Some of her best lines strike analogies between taxidermy and more widely appealing phenomena: taxidermists' work is "a motionless zoo"; "a dead circus coming to life"; a kind of karaoke.
---