Classic review: Last Dance: Behind the Scenes at the Final Four
Sports author John Feinstein offers a primer on March Madness and the drama surrounding the NCAA basketball tournament.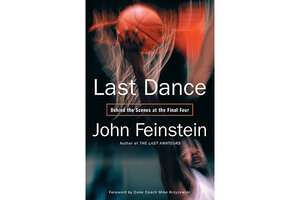 [This review from the Monitor's archives originally ran on March14, 2006.] With the annual March Madness once more upon us, it seems an appropriate time to consider how the once-modest NCAA basketball tournament (which wasn't even televised until 1968), has become second only to the Super Bowl as an annual pageant of electronic athletic excess. (Hint: The $6-billion multi-year TV contract didn't hurt any.)
John Feinstein's Last Dance: Behind the Scenes at the Final Four nicely answers most of the questions that both casual and hard-core fans might have.
The author, a commentator on NPR and contributor to The Washington Post, is a type of bestseller factory, a man who over the past quarter century has become the victim of nearly as much professional envy as that visited upon Duke University coach Mike Krzyzewski. (Appropriately enough, Coach K. wrote the book's introduction.)
But Feinstein's not merely prolific; he's also quite good. His book about then-Indiana Hoosiers Coach Bobby Knight, "A Season on the Brink," was the bestselling sports book of all time, until Feinstein eclipsed his own record with a golf tome, "A Good Walk Spoiled."
Once more, Feinstein manages just the right mix of sentimentality and irreverence, especially when it comes to the NCAA hierarchy.
---