Mark Twain: Man in White
A close look at the last four years of Mark Twain's life.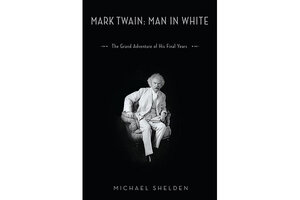 Persons attempting to find a motive in Mark Twain's doings are many. Those trying to find a moral in his life most often end up contradicting one another. But anyone hoping to find a plot in it would do well to follow the example set by Michael Shelden.
The motive behind Shelden's Mark Twain: Man In White, an in-depth look at Twain's final years, is to reverse the common viewpoint that Twain's old age was merely a sad and uneventful countdown toward death. His argument would make for a nice PhD thesis – and the book could easily have been as dry as one – but Shelden rarely retreats to the distant tone of scholarship. Instead, he ushers his irrepressible, brilliant, complicated subject onto center stage and Twain becomes as compelling a main character as in a well-developed novel.
Shelden, whose past work includes biographies of George Orwell and Graham Greene, has the advantage here of having as his subject one of the pithiest and wittiest characters ever to dominate American literature. He draws from journals, letters, and newspaper accounts for a front-row, real-time view of Twain's words and thoughts; it would have been a literary crime to let such lively material fall flat.
---