The Bridge: The Life and Rise of Barack Obama
New Yorker editor David Remnick examines Barack Obama's unprecedented political odyssey.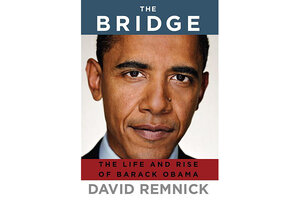 Here is a great what-if moment for historians: What if Alice Palmer had secured a spot on the Illinois ballot in the 1996 state Senate race featuring a young community organizer named Barack Obama? Palmer, the incumbent, supported Obama's entry into the race, as she had stepped down to pursue a congressional seat. A popular South Side politico, Palmer expected an easy win in her congressional bid. Instead, Jesse Jackson Jr. jumped in the race and beat her.
That left Palmer without a political home. She opted to return to the state Senate race she had earlier encouraged Obama to join. An unknown political quantity at the time, Obama was already ambitious, as he proved by invoking local rules and demanding validation of the required voter-petition signatures each candidate, including Palmer, had filed. Obama's audacity paid instant political dividends. Palmer fell 200 signatures short of the minimum, catapulting Obama to victory – and setting in motion a political whirlwind that led to the election of the nation's first African-American president in 2008.
His improbable debut victory in the Illinois state Senate race 14 years ago is the kind of thing that should have kept John McCain and Hillary Rodham Clinton awake at night. As Illinois Democrat Ricky Hendon tells author David Remnick years later, "I don't know anyone who thinks Alice wouldn't have won at that time and in that era. She was the queen."
---