Citizens of London
The Americans who made it to London post-World War II found a vibrant city fueled by courage and resolve.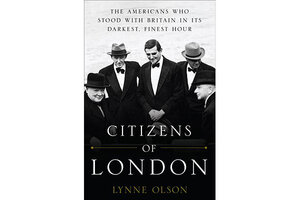 Quick! Name an American ambassador to Britain. Well, there was President John F. Kennedy's father. And... um, maybe John Adams or Thomas Jefferson. How about another question?
Few in England would have had any trouble naming the US envoy to the Court of St. James during and after World War II. His name was John G. Winant, and he served as a bridge and a beacon. As one Briton put it, he "convinced us that he was a link between ourselves and millions of his countrymen, who, by reason of his inspiration, spoke to our very hearts."
Winant was only one of hordes of Americans who landed in Britain to help it survive the worst days of its existence. They found a bustling capital city that boasted more glory than misery, more excitement than tedium, more amour than armor.
Citizens of London tells the story of these Americans in an engaging history that says plenty about the Yankees who came to pull Britain's teapots out of the fire. Or, as the book's subtitle puts it more elegantly, "The Americans Who Stood With Britain in Its Darkest, Finest Hour."
Lynne Olson, the author and a former White House correspondent, chooses to focus on three American men – Winant, W. Averell Harriman and journalist Edward R. Murrow – who cozied up (sometimes literally) to Britain's power players.
---