The Eastern Stars
Why does San Pedro de Macoris – a small town in the Dominican Republic – produce so many Major League Baseball players?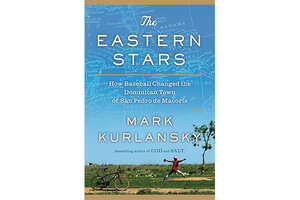 I craved a home run from Mark Kurlansky's The Eastern Stars, but all I got was a single. "The Eastern Stars" has fascinating moments, but its course is unsteady, its rhythm erratic.
The book aims to explain why San Pedro de Macoris, a small, poor town in the Dominican Republic, produces so many Major League Baseball players. Unfortunately, it will be more interesting to statisticians than to readers seeking the thrill of the game.
Even though Kurlansky profiles numerous Dominicans who became major- leaguers in the US and Japan, he fails to communicate the excitement of baseball. I hankered for a chapter in which he described a game among talented kids in one of the ballparks in which they train.
Still, the book is intelligently analytical. It expertly parses a mulatto country in which skin shade can influence the trajectory of a career. It documents the feckless, US-influenced politics of a country in which the gap between rich and poor never seems to narrow. And it transmits useful minutiae including numerous recipes for examples of Dominican cuisine.
Kurlansky can also put you on the scene: "San Pedro's commerce spilled onto the street from the kind of one-story Latin-American concrete architecture that tried to avoid drabness by being painted in the industrial color palette used in the making of popsicles," he writes in a chapter on the town's transition from a sugar-producing center to a baseball mill. "In the end, most of the newer buildings resembled dirty bubble gum. The metal grating on every door and window made the houses look like smiling teenagers with their braces showing."
---
Follow Stories Like This
Get the Monitor stories you care about delivered to your inbox.