The Diamond Dog
Diane Wakoski's skill at mythmaking allows her to spin personal loss into engaging verse.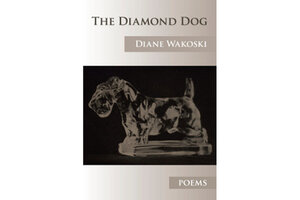 When he gave poetry readings, Robert Frost told the poets in the audience to do it the way he did. Don't mumble, he said, look up from the page, pause between poems, and say something about each one before reading it. Anyone who has ever sat through a high-speed poetry reading and left bewildered will wish that more poets would take Frost's advice to heart.
Poetry is the most compressed of the arts, so what Frost was saying is that it's just plain good manners to set the poem up, especially if you want the audience to get anything from it. If that's good advice regarding individual poems, it's equally good for entire collections, though few poets introducing their work are likely to go as far as Diane Wakoski does in the essay that begins her latest book, The Diamond Dog.
Wakoski has been writing poems for about 50 years; her first collection, "Coins & Coffins," appeared in 1962. Her work is often associated with the Deep Image school, with its allegiance to the Jungian imagery said to comprise the collective unconscious, as well as the Confessional and Beat movements in poetry. Her best-known book, "The Motorcycle Betrayal Poems," appeared in 1971 and deals with, as Wakoski notes in her dedicatory statement to that volume, "all those men who betrayed me at one time or another."
All of these – the Jungian images, the tendency to confess, the wild leaps and unruly rhythms of the Beat poets, the theme of abandonment – figure in "The Diamond Dog." By now, though, Wakoski is able to look back over her 22 books and connect these concerns in the essay called "Creating a Personal Mythology" that begins the book. Here she provides a career perspective that her fans will welcome. Just as important, she describes a way of writing that young poets will be able to make their own.
---