The Double Comfort Safari Club
Bush tea and empathy flow in the new 'No. 1 Ladies' Detective agency' novel.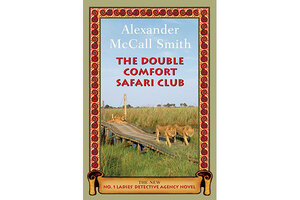 The prolific Alexander McCall Smith writes more novels in a year than most Americans read. Not only does he keep up with the annual goings-on in Gabarone, Botswana, but he simultaneously juggles three other series – his "Isabel Dalhousie" novels, the "44 Scotland Street" books, and the "Portuguese Irregular Verbs" series (which I'd somehow completely missed) – as well as turning out children's books (apparently tossed off in lieu of a Saturday nap).
But the "No. 1 Ladies' Detective Agency" mysteries remain his best-written and most consistently satisfying works. The Double Comfort Safari Club gives readers a chance to check in on the more compassionate, reflective world of the house on Zebra Drive and the ongoing business concerns of Speedy Motors and the No. 1 Ladies' Detective Agency. A mystery or two may be cleared up in the process, but for most fans, a missing sock would be reason enough for a visit with Precious Ramotswe.
---
Follow Stories Like This
Get the Monitor stories you care about delivered to your inbox.