Classic review: Standing by Words
Wendell Berry makes a fervent plea for poetry with a sense of community and place.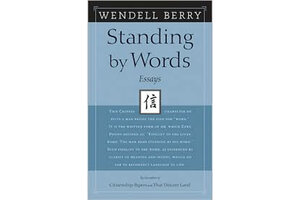 [This review from the Monitor's archives originally ran on March 2, 1984.] I am endlessly in need of the work of poets who have been concerned with living in place, the life of a place, long-term attention and devotion to a settled home and its natural household, and hence to the relation between imagination and language and a place. The work of these poets suggests the possibility that action can again become the subject of poetry. - Wendell Berry
In his new collection of essays, we find Berry adamant, didactic, and unabashedly partisan. The purpose of his assault is to resurrect the essential values of clarity, responsibility, and commitment to the living tradition of poetry. As the argument progresses, his rhetoric rises to a near-religious fervor that is hardly orthodox for literary criticism. And the result is nothing short of splendid.
Wendell Berry is a poet, essayist, novelist, and Kentucky farmer. It is at the confluence of his two major concerns - care for language and care for the land - that ''Standing by Words'' has it source. In six essays with interlocking subjects, Mr. Berry explores the correspondence between the breakdown of our language and the isolation of individuals from their communities. One might be put off by the intensity of his style if it were not so immediately apparent that his debate is not that of an intellect dueling with opposing opinions but that of an individual working to prevent the destruction of his culture.
---