Poetry reviews: "The Apple Trees at Olema" and "The Best of It"
Two of America's best known poets offer new collections for poetry month.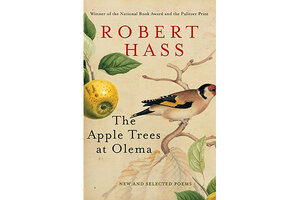 When major poets release their collections of "new and selected poems," fans often ask two questions: Do the compilations provide valuable insights? Are the new poems as good as the old ones? In many cases, the answer to one or both is no, and what should have been a literary milestone feels like repackaging.
Readers are hoping for two affirmatives from Robert Hass and Kay Ryan this spring. Both writers have served as poet laureate of the United States (a position Ryan still holds), and both have earned their place among the nation's most esteemed poets. That's where the similarities end.
The Apple Trees at Olema illustrates why Robert Hass's work has been widely admired. He masterly conveys the beauty and fragility of the physical world and the people who often stumble and struggle as they move through it. His selected poems are earthy yet illuminating, complex yet clear-eyed, and as the work progresses, readers watch Hass experiment with line lengths and form as his subject matter, narratives, or aesthetics demand.
The result is poetry that seems to breathe, inhaling softly in some cases, exhaling sharply in others. The strongest writing almost pulses with imagery, as in the closing lines of "The Beginning of September," from Hass's prize-winning second book, "Praise."
So summer gives over –
white to the color of straw
dove gray to slate blue
burnishings
a little rain
a little light on the water
---