John Paul Stevens: An Independent Life
A biography of the justice who has become the anchor of the US Supreme Court's liberal wing.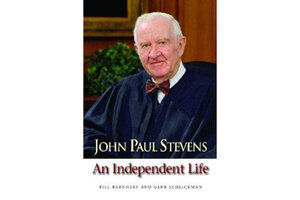 In the weeks since he announced plans to retire from the US Supreme Court at the end of the current term, John Paul Stevens has frequently been portrayed as a throwback to a bygone era.
After 35 terms, Stevens will depart as the fourth longest-serving justice in American history, as well as the court's sole Midwesterner, only Protestant, and last World War II veteran.
Perhaps most significantly, on a court where all eight of his colleagues vote pretty much as was expected at the time of their appointments, Stevens is also the last enigma. How did this bow-tie-clad moderate appointed by Republican President Gerald Ford come to anchor the court's liberal wing?
Bill Barnhart and Gene Schlickman set out to answer that question in John Paul Stevens: An Independent Life. That title pretty much sums up their theory and governing principle: that he exhibited the same independence as a justice that he did earlier in life. But by devoting roughly two-thirds of the narrative to Stevens's precourt life, his tenure as a justice winds up getting short shrift.
To be sure, Stevens has witnessed a remarkably long span of American history. He was born to one of Chicago's wealthiest families, and watched their hotel fortune vanish during the Great Depression. He served as an Army code breaker during World War II, an experience which seemed to fuel his passionate dissent from the court's 1989 decision striking down a law banning flag burning.
---