Get Capone
Journalist Jonathan Eig presents a compelling portrait of America's all-time favorite crime boss.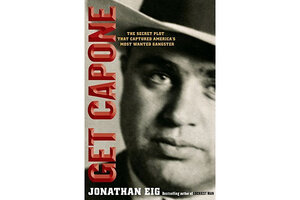 Al Capone and Prohibition both arrived in Chicago in 1920. For more than a decade, Capone would ride this gangster stimulus package to fame and fortune by providing the Windy (and Thirsty) City with the things it required: the occasional wager, the odd prostitute, and, most of all, a regular supply of booze.
As author Jonathan Eig writes in Get Capone: The Plot that Captured America's Most Wanted Gangster, in the wild wild Midwest of the Roaring '20s, "Getting a nip of the sauce in Chicago was as easy as getting a book from the Library."
Capone was just 20 when he arrived, with an Irish Catholic wife and young son in tow, but within the decade he would have truly arrived, his mug gracing the cover of Time magazine. He was as famous as he was infamous.
Nonetheless, he studiously courted the media as if he were running for high office. He candidly told Cosmopolitan magazine that he was a bootlegger who in the course of his daily rounds needed to bribe public officials and, now and again, deal forcefully with rivals who got "chesty." He made it sound like his racket was public service. He would have made a crackerjack salesman – or politician.
And while Capone got into his share of trouble during the Roaring '20s, he studiously avoided the one thing that would give the whole country a decade-long hangover. He never played the stock market. "Those stock market guys are crooked," he averred presciently before the 1929 crash.
Still, he didn't do badly, financially speaking. He went from earning $9 a week as a cloth cutter to almost certainly being a millionaire by age 25, when being a millionaire still meant something. The government guesstimated his crew grossed $95 million annually at its peak, the equivalent of $1.2 billion today.
---