Sophia Tolstoy: A Biography
Sophia Tolstoy spent a lifetime striving to be her husband's keeper.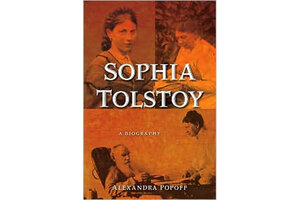 Sophia Tolstoy, the daughter of a Moscow doctor, was 18 when she married the 35-year-old Leo Tolstoy, already a famous author. Sophia worshiped her husband, devoted herself to him, mothered him and their many children, became the publisher of his work, squabbled with his disciples, nursed him through illnesses and depressions, occasionally drove him up the wall, and, spurned by him in his last week of life in 1910, survived him and continued preserving his works and ancestral estate for the world.
The marvelous Helen Mirren played Sophia in the movie of Jay Parini's novel about Tolstoy's last year, "The Last Station," and I believe the real Sophia would've liked the portrayal of herself: bold, high-strung, efficiently busy, and attractive. Amid her duties and joys (she exulted in her importance as Tolstoy's sounding board and copier of his drafts of "War and Peace" and "Anna Karenina"), she seemed never to tire, but often felt unappreciated for her constant service and domestic management.
"In our family, Lev Nikolaevich lived by personal choice; as for me," Sophia complained in her memoirs, "I only lived by necessity, while yearning for a spiritual and serene life." She became pregnant 16 times, with eight of them surviving to adulthood.
---