The Last Stand
Gen. George Custer for US president? Not if Ulysses S. Grant could help it.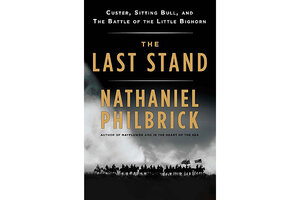 Like a long-haired rock star prancing about the stage in super-tight jeans, Gen. George Custer eschewed comfort for style in Davey Crocket-style buckskin pants and shirts that shrank in the sun, even though light and fast-drying cotton was by then a commonly worn cloth.
"His uniform was spotless and fitted him like the skin on a sausage," one officer recalls in Nathaniel Philbrick's eighth and newest book, The Last Stand: Custer, Sitting Bull, and the Battle of the Little Big Horn. It's a typical example of the great detail offered in this story of a passionate, ambitious man whose flamboyant, irrational style earned him fame, enemies, and death at age 36.
Philbrick is a meticulous historian. His previous book, "Mayflower," was a finalist for the 2007 Pulitzer Prize in History. An otherwise upbeat Monitor review of "Mayflower" qualified that, "Philbrick spends too little time on the big picture and too much on arcane detail, making for many dry passages." Unfortunately, that problem continues in this book. While offering interesting tidbits, tedious minutiae and irrelevant details bog down what could be a riveting narrative.
Meanwhile, interesting asides receive little attention or elaboration. Philbrick mentions, for example, that Sitting Bull, after defeating Custer at the Battle of Little Bighorn, went on tour with Buffalo Bill's Wild West Show, but never explains why the great chief subjected himself to such silliness. Moreover, Philbrick buries his important hypothesis – that Custer is a scapegoat for the 1876 military fiasco that granted him immortality in US history books.
---