Thieves in the Temple
Have today's churches lost their way?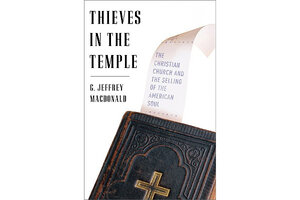 Jeffrey MacDonald writes about religion from a unique, dual perspective as both a veteran journalist (he's a correspondent for the Monitor) and an ordained minister (in the United Church of Christ). In Thieves in the Temple, he adeptly diagnoses a growing and largely unpublicized problem confronting Christianity today: "Faith has become a consumer commodity in America. People shop for congregations that make them feel comfortable."
In 2008, MacDonald notes, "a whopping 44 percent" of Americans had switched religious
affiliations in their lifetimes, compared with only 4 percent in 1955. Churches have fed this "shopping around" trend, MacDonald contends, by seeking to
attract "customers" by watering down their core values and offering convenience, comfort, and guilt-free affirmation.
MacDonald provocatively and convincingly argues that too many churches, especially the growing legions of megachurches, have chosen to boost their numbers by diluting their core mission, and that quantitative measures of success have trumped qualitative measures of moral improvement.
"Churchgoers no longer have to put up with components of religious life that they find distasteful, difficult, or less than gratifying in the short term," bemoans MacDonald, who argues that these consumer-driven churches offer parishioners "the spiritual equivalent of spending all day on the couch, eating cupcakes for dinner[.]"
---