Will Contested
Conspiracy theories aside, argues Shakespearean scholar James Shapiro, Shakespeare really did write Shakespeare.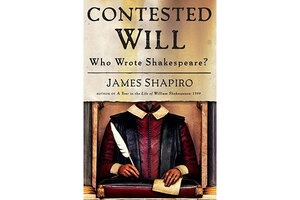 Could the creator of Hamlet and Macbeth really have been a regular guy from the sticks who spent a lot of time worrying about low-brow things like making a living? Or was he (or she) a person with the background befitting such a genius? An earl, perhaps. Maybe a famed philosopher scientist. Or a certain grand lady who may have had spare time to write "King Lear" when she wasn't busy ruling England.
Great minds have ruminated over the was-Shakespeare-really-Shakespeare question for more than two centuries, and many have come up with a seductive answer: no way.
Helen Keller doubted the bard was that genial balding man in the portrait. So did Mark Twain and Sigmund Freud. More recently, Supreme Court justices have joined the train of doubt.
But it's all hogwash and flapdoodle, claims Shakespeare scholar James Shapiro, who uses a variety of classier words to make his case in a convincing new book.
Contested Will: Who Wrote Shakespeare? won't resolve the debate, of course. But it manages to make doubters sound like addled conspiracy theorists, no mean feat considering that many of them are (or were) well-respected thinkers.
---