Parrot and Olivier in America
A French aristocrat and his British servant travel to America to study its penal system in this unlikely but delightful early 19th-century buddy comedy.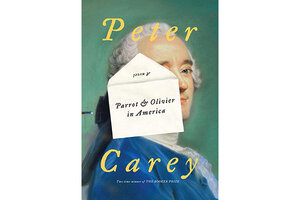 Alexis de Tocqueville doesn't seem a likely candidate for a buddy comedy. American high school students probably wouldn't single out the author of "Democracy in America" as an especially humorous historical figure. (Teddy Roosevelt is easy to imagine in a road movie. Ben Franklin could totally have starred in a picaresque. Millard Fillmore is just funny to say.)
But there is his fictional alter ego, a Gallic Felix Unger to his British servant (and spy) John Larrit's Oscar Madison in Peter Carey's energetically intelligent new novel, Parrot and Olivier in America.(Although the pampered, asthmatic, peevish Olivier-Jean-Baptiste de Clarel de Barfleur makes Felix look like Rocky Balboa.)
---
Follow Stories Like This
Get the Monitor stories you care about delivered to your inbox.