Matterhorn
If you have any interest in Vietnam, don't miss this novel.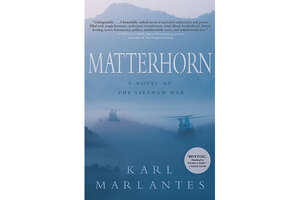 It's 1969, a year tossing in the wake of its turbulent predecessor. In '68, assassins claimed Martin Luther King Jr. and Robert Kennedy. American troops massacred Vietnamese villagers at My Lai and the execution of a Northern Vietnamese Army (NVA) military officer by a policeman from South Vietnam generated a photograph that would serve as the ugly face of the Vietnam War. The Tet offensive surged, then was pushed back. Anti-war protests gripped college campuses. Prague Spring rose, then fell. Richard Nixon was elected president of the United States.
Karl Marlantes anchors Matterhorn in 1969, the year after the world seemed to be shaking on its foundation. The novel is a superb piece of military fiction that deserves a place on the shelf of any reader with even a passing interest in the lore of Vietnam.
---