Last Call
How dry was Prohibition? Some say the law did much to spike sales of alcohol.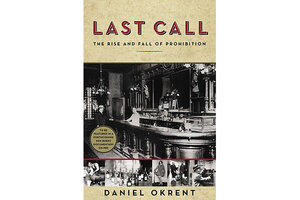 Did you know that James Madison drank an entire pint of whiskey daily? Or that George Clinton, governor of New York, once served 261 bottles of alcohol at a dinner for 120 guests? How about the fact that in the 1820s, liquor was cheaper than tea in the United States, or that by 1875 one-third of all federal revenue came from alcohol? (All this consumption led an English visitor in 1839 to note, "I am sure the Americans can fix nothing without drink.")
You undoubtedly do know that there was a backlash called Prohibition, which lasted from 1920 to 1933. And you have probably read in history books that it was considered a disaster. But did you know that one of its most famous enforcers, Eliot Ness, himself died an alcoholic? Or that, during Prohibition, it was permissible to sell an alcoholism "cure" called Colden's Liquid Beef Tonic – although it was 53 proof (26 percent alcohol)? How about the fact that New York City had 32,000 illegal drinking establishments at the height of Prohibition?
---