Innocent
Rusty Sabich returns in this superb sequel to Scott Turow's 1987 blockbuster, 'Presumed Innocent.'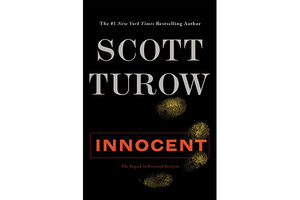 People don't change. Or maybe they do.
In Innocent, Scott Turow uses that do-they-or-don't-they notion to fashion a superb sequel to his 1987 blockbuster, "Presumed Innocent." The earlier book became a bestseller, launched the still-popular legal thriller genre, and led to a successful movie adaptation starring Harrison Ford.
Even as John Grisham and dozens of others followed similar paths to the best-seller lists, Turow resisted the urge to repeat his winning formula over and over again. He took his time with each new novel, eschewing the book-a-year cycle publishers prefer for brand-name authors. Sure, Turow often stayed in his fictionalized version of Chicago, the corrupt and brooding Kindle County, but he moved on to much different stories, keeping readers off balance while keeping a close eye on developing characters interesting and intriguing enough to match his brisk courtroom plots.
With "Innocent," Turow returns, 20 years later, to the scene of his breakthrough novel. Former rival deputy prosecutors Rusty Sabich and Tommy Molto, stars of the first book, are headed for another blockbuster murder trial.
Though "Innocent" is a richer read for those who have read "Presumed Innocent," it stands alone with ease. Turow sprinkles in enough back story to reveal why Rusty, now an appellate judge, and Tommy, the acting prosecuting attorney, remain wary of one another.
---