The War Lovers
When war was considered glorious.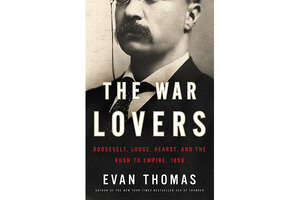 Today, when Americans seem oblivious to the bloody battles their own country is waging overseas, it is worth recalling that there was a time when the nation was obsessed with war. While the struggles in Iraq and Afghanistan no longer occupy the front pages of the nation's newspapers, in 1898 the American people were galvanized by a conflict 90 miles from the American mainland.
When the United States took up arms against the Spanish in Cuba that year, many Americans, especially those in the leadership class, embraced the notion that it was salutary to shed blood on foreign battlefields. Convinced that world politics was a Darwinian struggle pitting nation against nation, men like New York's Theodore Roosevelt and Sen. Henry Cabot Lodge of Massachusetts were certain that going to war would keep the US from growing flabby. Countries that were unwilling to fight were destined to become irrelevant, they believed.
A year before America intervened in Cuba, Roosevelt, the assistant secretary of the Navy, declared that "all the great masterful races have been fighting races. And the minute that a race loses its hard fighting virtues, it has lost its proud right to stand as the equal of the best." Fired up by such thinking, Roosevelt and his energetic crowd were determined to make sure the US did not remain on the sidelines.
---