Slow Love
The former head of "Home & Garden" faces the need to create a new "scaffolding" for her life.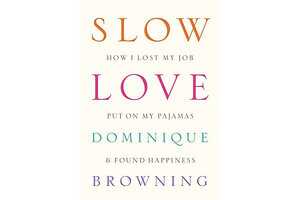 Dominique Browning appreciates the irony that it was only after being ejected from a high-profile job at "Home & Garden" magazine that she learned to make a new home for herself. Such notes of perception are strewn through her new memoir, Slow Love, which recounts her up-and-down journey after losing her job. With gentle observations and wit, the book has lessons to share even for people facing different trials than Browning's – in fact, those readers may enjoy thebook more than those seeking guidance after a job loss.
"Slow Love" recounts the days after the Conde Nast magazine was abruptly shut down, ending Browning's 13-year tenure as editor. She spun into what most would call a midlife crisis as her Manhattan media life ended, compounded by her struggle to permanently switch an off-and-on relationship to off.
Many chapters could stand alone as essays on modern life. There is no one clear breakthrough leading Browning from panic to peace. She goes through good stages and bad ones and back and forth again. We follow her through spates of insomnia and hypersomnia; mindless overeating and mindful muffin-baking; and the surprising, freeing pleasures of a strict weight-loss diet. The swings makes the book less satisfying as a neat package, but certainly more believable as a real life.
Browning's low-key epiphanies are what keep readers moving through the book. They're sometimes enlightened, sometimes entertaining, sometimes both. The passage I keep repeating to friends introduces the concept of a "building standard" relationship. Browning learns it during her long entanglement with "Stroller," a man who is married but legally separated, whose idea of commitment, she writes with a sharp edge, is "dinner, theater, and a long weekend." A friend admonishes her: "You know how when you rent office space, you get white walls, spongy acoustic tile ceilings, access to bathrooms? Running water? Heat? That's baseline ... building standard. Married is not building standard for a guy you're dating. Divorced is building standard. Single. Available. Are you nuts? Why don't you think you're worth it, anyway?"
---
Follow Stories Like This
Get the Monitor stories you care about delivered to your inbox.