The Facebook Effect
Facebook may know more about you than your government does.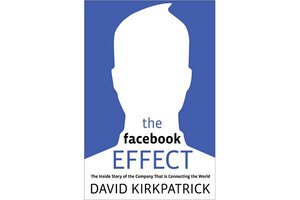 Most adolescent boys spend their high school years worrying about acne and girls. Not Mark Zuckerberg. While at Phillips Exeter Academy, he and a friend developed Synapse, a software program that assessed users' listening habits and suggested other songs they may like. Synapse received purchase offers of close to $1 million from Microsoft and other tech companies. These same firms also lobbied Zuckerberg to forgo college and immediately come to work for them.
Zuckerberg declined all offers to skip college and to sell Synapse and instead enrolled at Harvard. The Dobbs Ferry, N.Y., native did not seem to be motivated by money. He harbored grander ambitions. By the spring of 2004, his sophomore year, the then 19-year-old had launched Facebook.com. David Kirkpatrick, senior technology editor at Fortune magazine, captures this moment and the subsequent ascension of Facebook in The Facebook Effect: The Inside Story of the Company That is Connecting the World.
---