The Icarus Syndrome
How hubris – in various shapes and forms – played a role in America's decision to go to war in Iraq.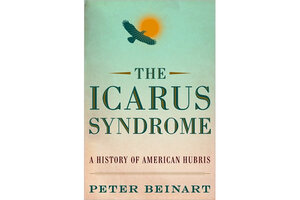 The Icarus Syndrome is actually two histories in one book. The first is, as the subtitle claims, a history of American hubris. But the second story is a history of Peter Beinart's hubris. Beinart, a columnist for The Daily Beast, was a prominent voice pushing for the war in Iraq in 2002 and 2003, when he was the editor of The New Republic.
As one of the leading "liberal hawks" – Democrats who supported the Iraq war and other instances of American military power – Beinart played a crucial role in providing bipartisan legitimacy to President George W. Bush's disastrous foreign policy. As Iraq turned out to be less like World War II and more like Vietnam, Beinart began questioning where he, and most of the rest of the country, went so wrong.
Beinart identifies three problems in American foreign policy over the past 100 years: the hubris of reason, the hubris of toughness, and the hubris of dominance, explaining United States conduct in World War I and its aftermath, the Vietnam War, and the Afghanistan-Iraq wars, respectively.
---