Classic review: My Father's Paradise
A journalist grows closer to his Iraqi-born father as they journey together to Kurdistan to explore their family roots.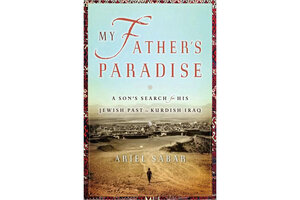 [This review from Monitor archives originally ran on Sept. 15, 2008.] "Ours was a clash of civilizations, writ small," writes Ariel Sabar of his relationship with his father. "He was ancient Kurdistan. I was 1980s L.A."
Sabar, who until recently covered the 2008 US presidential campaign for The Christian Science Monitor, is the son of an Iraqi Jew from Kurdistan, a gentle scholar forced from his homeland by politics, a man who grew up in a corner of the world so isolated that he was raised speaking the ancient Aramaic of Jesus.
If this sounds exotic or thrilling to the rest of us, it was nothing but mortifying to the youthful Sabar who was raised in Los Angeles.
"Mostly ... I kept my distance," he writes of his father. "He lived in his world, I in mine.... [A]t some point, as a teenager, I even stopped calling him Abba or Dad. He was just 'Yona' ... the odd-looking, funny-talking man with strange grooming habits who lived with us and who may or may not have been my father, depending on who was asking."
My Father's Paradise is Sabar's quest to reconcile an ancient past with his own life today – and to knit his father's story to his own. It was when Sabar began his own career as a journalist and then became a father himself that the formidable challenges his father had faced began to earn his respect.
Using his journalistic skills, Sabar began to delve deeper into his father's past. As he did, the value of his father's uniqueness became clearer to him.
Eventually, in full pursuit of family knowledge, Sabar proposes to his father that they travel together to Zakho, in Iraqi Kurdistan, to see his father's native village.
---