The Other Wes Moore
The author delves into the life of a convict who shares his name.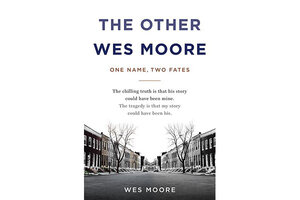 There are two men with the same name. One is a Rhodes scholar and Johns Hopkins graduate who was a speaker at the 2008 Democratic Convention. The other is a former drug dealer, convicted of murdering a police officer and serving a life sentence at Jessup Correctional Institution in Maryland.
Both men were profiled in the Baltimore Sun for their deeds, which is where The Other Wes Moore begins. Author Wes Moore happened to hear about an ongoing story in the local paper about an armed robbery that ended in the murder of a police officer – a father of five kids – and was struck by the fact that one of the robbers shared his name. Compelled by the odd coincidence, he eventually sent a letter to the other Wes Moore, who by that time had begun serving his life sentence.
"The Other Wes Moore" is the result of that letter and subsequent correspondence between the two men, each eager to meet his namesake and to try to understand how their lives – similar at many turns – became such polar opposites.
Moore interviewed family members, educators, and friends of both men to enhance his narrative, which is organized as coming-of-age snapshots that offer glimpses into the circumstances of both lives. He is earnest but not naive as he challenges the oft-repeated theories of nature vs. nurture and the perceived advantages or disadvantages of race and class.
---