Extra Lives: Why Video Games Matter
Writer Tom Bissell shares his take on the best – and worst – aspects of video games.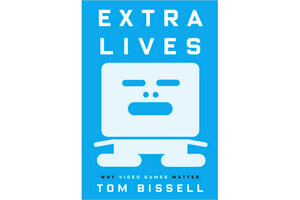 Tom Bissell has written three widely praised books in addition to the one under review here: "Chasing the Sea," a travelogue on Uzbekistan and ecological disaster; "God Lives in St. Petersburg," a collection of highly literary short stories; and "The Father of All Things," a meditation on not only father- and son-hood, but also the Vietnam War. He's received prestigious awards and fellowships. He's a contributing editor at both Harper's and the Virginia Quarterly Review.
In other words, Bissell is a serious and seriously good writer – and this is worth noting since his new book is about video games. The video game industry now pockets more of our money than do its counterparts in music and movies, but you'd never know it from glancing at a newspaper or magazine, where Nashville and Hollywood still get far more profiles, business items, and, of course, reviews.
Extra Lives: Why Video Games Matter is, among other things, a wonderful example of how and why this imbalance might be fixed. Rather than a history of video games or a consumer guide (buy this, rent that), Bissell aims to write criticism. "I wrote this book as a writer who plays a lot of games," he explains, "and in these pages you will find one man's opinions and thoughts on what playing games feels like, why he plays them, and the questions they make him think about."
---