Leo and His Circle
This biography of "gallerist" Leo Castelli paints a wonderful portrait of the hurly-burly 20th-century New York art world.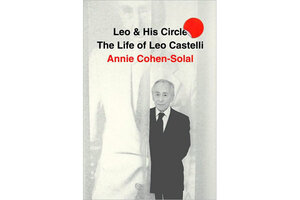 Leo Castelli may well have been the most important and influential art dealer in American history. He launched the careers of dozens of major American artists (including Jasper Johns and Robert Rauschenberg) and made art dealers and commercial galleries better integrated into the modern art world than ever before.
But despite the acclaim Castelli received for introducing dozens of world-renowned artists, it has been very difficult to fully appreciate his accomplishments. Now, however, thanks to Leo and His Circle, a new biography by Annie Cohen-Solal, we now have a clear and comprehensive picture of this seminal figure. It turns out he was a far more complex and interesting individual than anyone suspected.
The man who helped define contemporary American art for the rest of the world was born in Trieste – then a part of the Austro Hungarian Empire – in 1907. His father, Ernesto Krausz, was an Austrian banker and Leo had a very comfortable childhood. But things got harder – Trieste was annexed by Italy after the First World War and the rise of Mussolini and growing Italian nationalism complicated the family's situation. Indeed, the family's name was changed to "Krausz–Castelli" (based on his mother's maiden name) to conform to a decree that required the Italianization of all family names. Before long, Castelli would drop Krausz altogether.
---