Classic review: American Creation
Let's be real, urges historian Joseph Ellis. America's founders were neither saints nor sinners.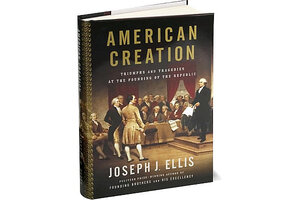 [This review from the Monitor's archives originally ran on Nov. 13, 2007.] No modest man ever made it to the presidency, least of all the obsessively self-interested John Adams. But even he admitted that America's Founding Fathers – of which he was one – were hardly gods sent down to live among mere mortals.
When a young man tried to fawn over him for being part of a truly great generation, Mr. Adams patiently told him to get a grip. "I ought not to object to your reverence for your fathers ... [but] I have no reason to believe that we were better than you are."
Fast forward to the present, when all those men in wigs still seem anything but ordinary. To many, they're either glorious saints from a better America or sinners who doomed the country to domination by rich white men.
In reality, these are silly "cartoons," argues bestselling historian Joseph J. Ellis, who's grown tired of both "mindless" cheerleaders and "naive" critics who can't handle the fact that history is colored in shades of gray.
On one hand, the political masterminds behind the Constitution could boast of a "monumental achievement" in human history, Ellis writes in his new book American Creation: Triumphs and Tragedies in the Founding of the Republic.
But at the same time, he writes, blacks and native Americans were left in the gutter, doomed to decades of slavery in one case and near-extinction in the other. How did the same leaders manage to be so great in some instances and so dreadfully wrong in others?
---