Pearl Buck in China
The achievements of "The Good Earth" author Pearl Buck are now largely overlooked.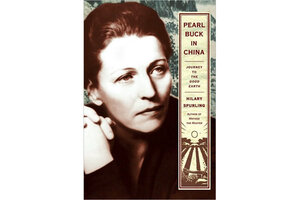 She was a bestselling author, a Pulitzer Prize winner, and the first American woman to be awarded the Nobel Prize for Literature. She was a celebrity in her day and a passionate humanitarian. She cranked out a book or two a year for decades, and could command thousands of dollars for her magazine articles. Yet Pearl Buck is now a forgotten figure, hardly a name you'd drop at a dinner party to impress literary types.
The British journalist and author Hilary Spurling, known for her acclaimed two-volume study of Henri Matisse, strives to correct this neglect with Pearl Buck in China, a compelling reappraisal of Buck's tumultuous early life and myriad accomplishments.
Buck is most celebrated for her 1931 novel "The Good Earth," which has sold tens of millions of copies and remains in print even today. In her lifetime, Spurling notes, everyone read her work, "from statesmen to office cleaners." She was a friend of Eleanor Roosevelt, and to this day only one other American woman (Toni Morrison) has won the Nobel Prize for Literature. Even though Buck advocated vigorously on behalf of unpopular causes such as women's rights, civil rights, and the rights of abandoned children of mixed-race parents (she founded an international adoption agency in support of this cause), she is not a revered figure among feminists. History has been unkind all around.
---