High Financier
Niall Ferguson examines a German life of privilege, lived through a significant swath of European history.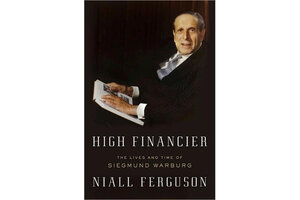 Even the most noted biographers choose subjects who outshine their own fame and renown. Pulitzer Prize winner Jon Meacham selected Andrew Jackson and the relationship between Winston Churchill and FDR for his character studies. Doris Kearns Goodwin – one of the most widely read biographers in the English language – tackled Abraham Lincoln and his storied cabinet in her most recent of presidential histories.
While not a biographer by trade, Niall Ferguson, the prolific professor of financial history at Harvard University, has managed to write a biography about a man who is most certainly less famous than he. In High Financier: The Lives and Time of Siegmund Warburg, Ferguson eschews the gravitational pull of the stars of the 20th century – Churchill, Stalin, Roosevelt, JFK, etc. – to inspect the life (or lives, as he so deftly attests) of a man whose life's work proves to be decidedly less interesting than an eager reader would hope.
---