Twilight at the World of Tomorrow
A stranger-than-fiction true story about the 1939 World's Fair and one of the remarkable characters behind it.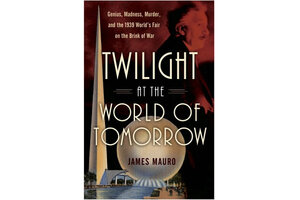 Nowadays you'd be hard-pressed to find many people who recognize the name Grover Whalen, a once-famous man who served as New York's police commissioner during Prohibition and became "better known as the city's 'official greeter,' practically inventing the ticker tape parade for visiting celebrities, including Albert Einstein and Howard Hughes," writes James Mauro in Twilight at the World of Tomorrow: Genius, Madness, Murder, and the 1939 World's Fair on the Brink of War. "When Charles Lindbergh made his historic flight from New York to Paris in 1927, Grover Whalen was the last man to shake his hand before takeoff at the Roosevelt Field airstrip on Long Island and the first man to welcome him upon his return to the city."
---
Follow Stories Like This
Get the Monitor stories you care about delivered to your inbox.