Claiming Ground
A minister's daughter seeks peace and meaning in a hardscrabble corner of Wyoming.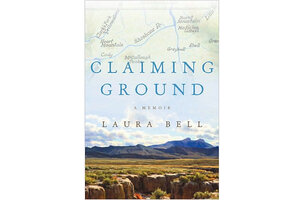 Ever since the age of Ovid and Homer, the popular idea that humans can become transformed merely by changing the physical terrain around them has been a standard in literature.
In her new memoir Claiming Ground, native Kentuckian Laura Bell tests the premise by uprooting herself and resettling into a hardscrabble corner of northern Wyoming between the wilds of Yellowstone National Park and the Bighorn Mountains that lord over the lonesome high plains.
There, among sheepherders, pioneer cattle-ranching families, forest rangers, and environmentalists, a real-life cast of solitude-seeking characters help her to discover a universal truth that hasn't changed in a few millenniums: Personal meaning IS NOT bestowed by a landscape. Instead, the sense of being connected to something larger than oneself is found only when the explorer subjects himself or herself to honest self-examination. In Bell's case, that means asking herself why she felt compelled to leave home at all.
The chief question that Bell, a minister's daughter, confronts over the course of several decades is whether she's fleeing something by running away or being pulled toward a higher calling. Her poetic ruminations on landscape, loss, and heartache provide all the answers we need.
For the past few decades, the American West has asserted itself as a powerful muse for contemporary, place-based memoirs, giving voice to a group of remarkable women writers that includes Annie Proulx, Terry Tempest Williams, Mary Clearman Blew, Judy Blunt, Linda Hasselstrom, Gretel Ehrlich, and Annick Smith, among others. "Claiming Ground," Bell's debut, marks her elevation into that group.
---