Fur, Fortune, and Empire
From beavers to buffalo, Eric Jay Dolin tracks the cruel but lucrative history of the American fur trade.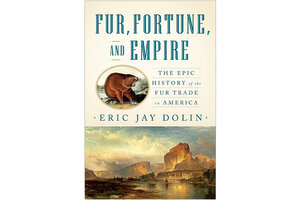 Anyone who has ever observed a fur trapper separating a pelt from a recently killed animal knows it is a gruesome, painstaking procedure. Yet this very act, repeated countless millions of times, was a surprisingly vital component in the early history of the United States. The hunting and killing of animals for their skins affected the survival of the Pilgrims and their precarious, debt-ridden colony; the relentless exploration of wild places prior to settlement; and the rapid decline and near demise of numerous mammalian species.
Fur trappers were often the first white men to reach remote locales like the Great Salt Lake in what is today Utah, as mountain man Jim Bridger did in 1824. Settlers followed along eventually, sometimes decades later, with the cavalry not too far behind. Disputes over places replete with beaver and other furbearing animals were sometimes a significant consideration as to whether British Colonists would go to war against the French, or later, whether the US would square off with England or native Americans.
As a young British officer, George Washington cut his combat teeth in a dispute with the French over who controlled the rich trapping grounds of Ohio. The first American vessel to circumnavigate the world was carrying sea otter pelts to China. The richest man in America in 1848, John Jacob Astor, made his bundle buying and selling furs. His fortune was estimated to be $20 million to $30 million, the equivalent of nearly $1 billion today.
---